BORDER TERRIERS

The Border Terrier originated in England and Scotland. These dogs were used for fox hunting and as ratters. They were recognized as a breed by the British in 1920. Border Terriers are good with children, have lots of energy, and are a good watchdog. They have a hard, wirey coat that requires little grooming.
BREED FILES
(WILL NOT erase your original Petz 3 breed files)
Only .zip format at this time due to space limitations--.exe files will be reposted in the next few days.
Border Terrier .zip file ("Border.zip")
Need help installing files? Click HERE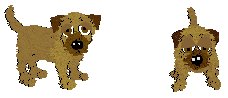 PUREBRED FAMILIES TO ADOPT
(must have breed files installed for these to work)
Border Terrier adults and puppy .zip file ("bordptz.zip")
Thank you Cteach927 for raising this family of Border Terriers!
Need help installing these files? ClickHERE
MIXED BREED BORDER TERRIER
ADULTS TO ADOPT
COMING SOON!!
achurch@wshs.luminet.net